On 16 September 2023, during the United Nations (UN) Sustainable Development Goal (SDG) Action Weekend at the UNHQ in New York City, the Institute of Economics of the Latvian Academy of Sciences (IE LAS) co-hosted a high-level side event "International Best Practices for Sustainable and Inclusive Rural Evolution Through Innovations in Higher Education, Science, and Gender Equality". The side event was moderated by Dr. Nina Linde, the Director of the IE LAS.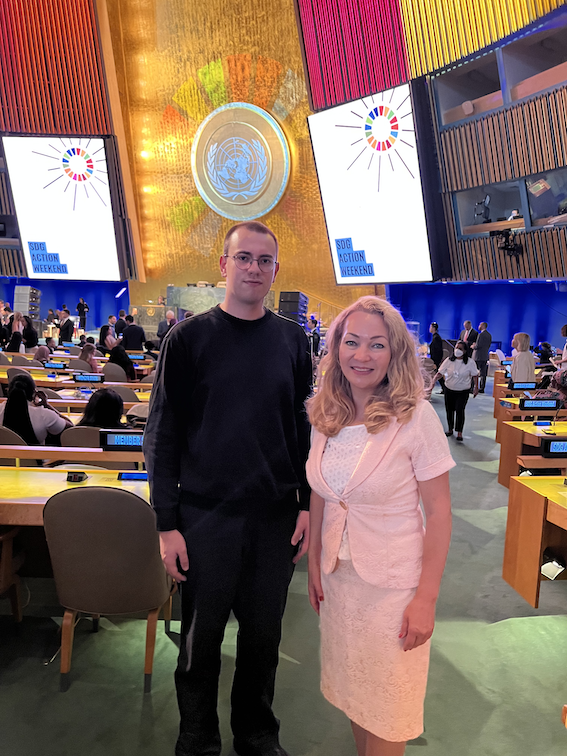 © Latvian Academy of Sciences
To maximise the SDG Summit's impact, the UN Secretary-General, H.E. António Guterres, convened an SDG Action Weekend from 16-17 September 2023,which generated opportunities for stakeholders, UN entities, and Member States to convene inside the United Nations Headquarters and set out specific commitments and contributions to drive SDG transformation between now and 2030. The first day – SDG Mobilisation Day – was opened at the General Assembly by the UN Secretary-General himself.
During the side event, Renars Raubiskis, Project Manager of the IE LAS presented the EQUALS-EU project as a best practice of capacity building in gender-inclusive innovation in Europe and beyond.
© Latvian Academy of Sciences
Furthermore, EQUALS Global and their initiatives driving women's economic opportunity was presented by Lena Ostlund, Project Officer at the International Telecommunication Union (ITU).
During the presentation, the high-level guests were offered a presentation of project activities, especially including the 3-week Summer School, which was organised by GSMA in collaboration with the IE LAS, Gender Centre at the Graduate Institute of Geneva, and the University of Valencia.
High-level guests of the session included Chang Wook-Jin, Chief of the UN NGO Branch, H.E. Daniel Del Valle Blanco, Ambassador and Permanent Observer of the International Youth Organisation for Ibero-America to the United Nations, Hanifa Mezoui, New-York Permanent Representative of AICESIS, Dr. Solomon Darwin, Executive Director at the Garwood Center for Corporate Innovation of the University of California-Berkeley, Barbara Winston, President and Founder of Peace Innovative Initiative – New York, Emilie McGlone, Peace Boat US Director and Tatsuya Yoshioka, Founder of Peace Boat, among others.