In the framework of ALL DIGITAL Weeks 2023, ALL DIGITAL organised a webinar with the theme "Closing the skills and gender gap in STEM – Where do we stand?" on the 3rd of May 2023 in the framework of its partnership in the EQUALS-EU project – Europe's Regional Partnership for Gender Equality in the Digital Age.
The session gathered speakers from the flagship European initiatives on the empowerment of girls and women in STEM education, careers, and entrepreneurship across Europe and beyond to share key lessons and visions for gender equality & digital inclusion in the context of the post-pandemic Europe.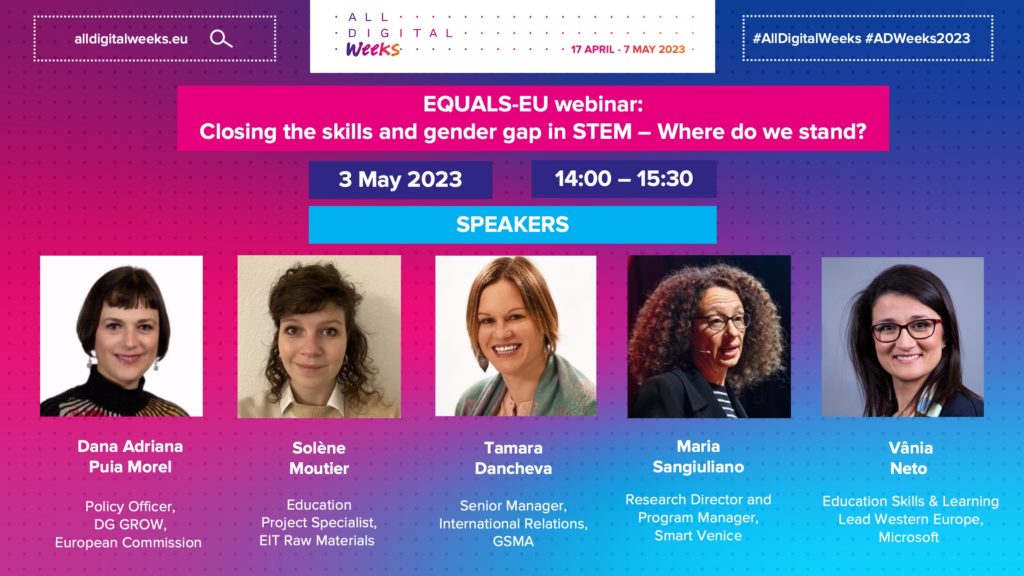 The World Economic Forum's Global Gender Gap Report 2022 projects that, at the current rate of progress, it will take 132 years to close the gender gap globally and 60 years in Europe. And in this context, the speakers shared their insights about the state-of-play and prospects for a gender equal digital society in the framework of the following key questions:
What are the giant steps we have taken here in Europe in the recent years and what is the big gap that we still need to bridge?
What are the factors that can make girls and women to be optimistic about opportunities in the STEM world in the upcoming years?
How can we streamline our efforts in policy, research, industry, and civil society to speed up the process towards a gender inclusive and digital future? 
The webinar started with the opening speech by Peter Palvolgyi, CEO, ALL DIGITAL who introduced the ALL DIGITAL Weeks campaign.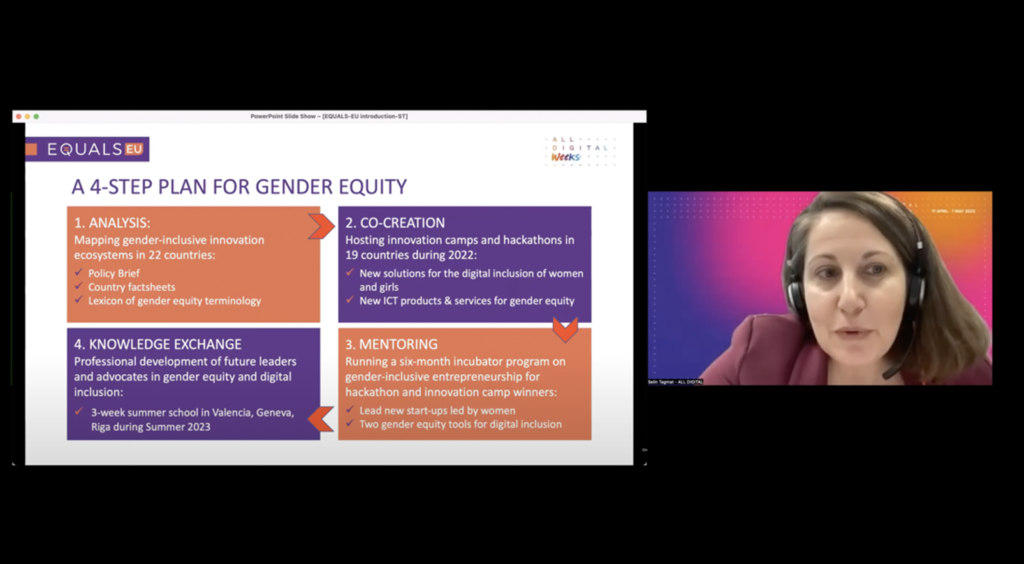 This was followed by an overview of the EQUALS-EU project by Selin Tagmat, Senior Project Communication Officer, ALL DIGITAL, who highlighted the recent project outcomes including Policy Brief outlining the characteristics for gender inclusive innovation ecosystems, 22 country reports presenting case studies of gender equity in social innovation ecosystems and new gender equity solutions developed during 19 innovation camps and hackathons.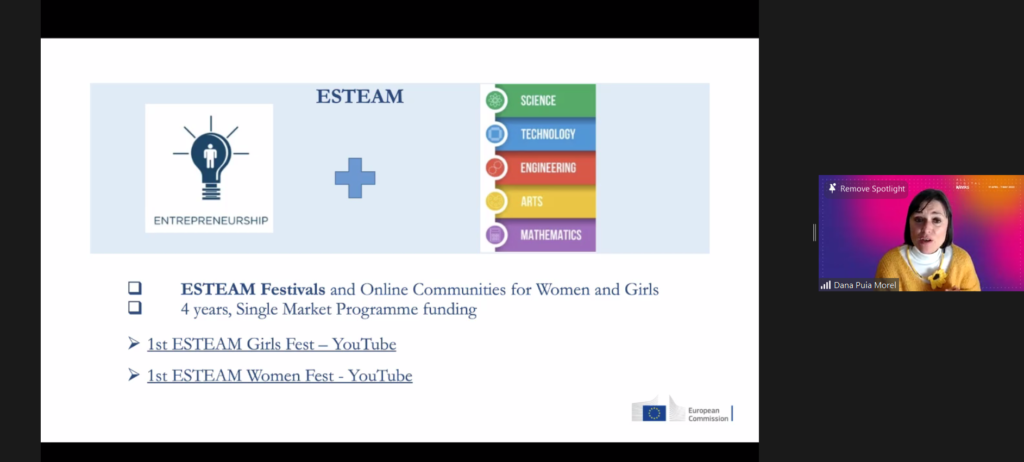 Dana Adriana Puia Morel, Policy Officer from DG GROW, European Commission introduced the ESTEAM Festsinitiative on empowering women and girls through digital and entrepreneurial competences. Dana shared two videos on the 1st ESTEAM Girls Fest and 1st ESTEAM Women Fest showcasing the activities empowering girls and women for ESTEAM career paths and inspiring them with women role models who thrive in these domains.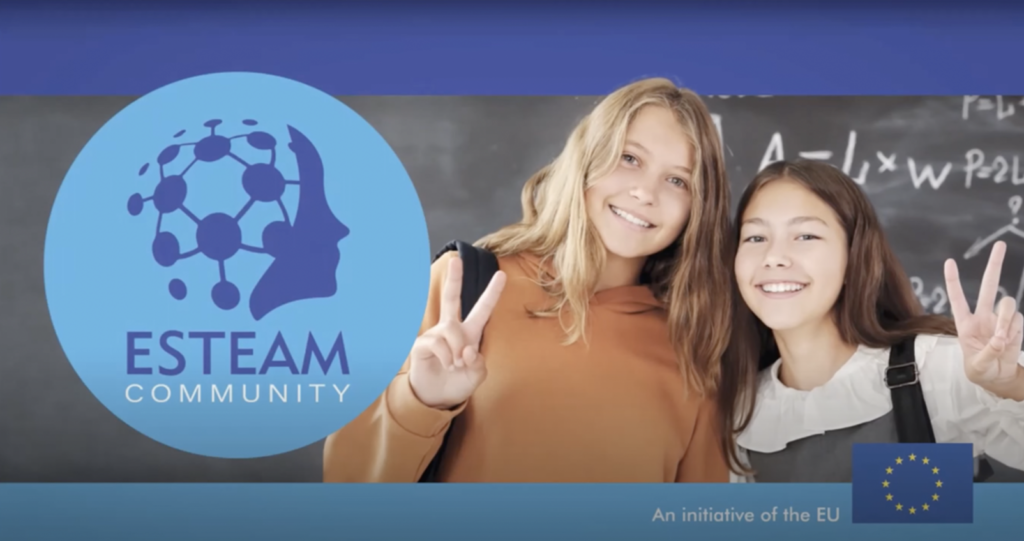 The 3-year ESTEAM Fests initiative consists of a succession of workshops across the EU countries and online communities in-between ensuring the continuity of the learning and exchange among girls and women. Dana highlighted that self-esteem is key for girls and women to achieve their full potential. The initiative focuses not only on digital and entrepreneurial competences but also collaboration, creativity, problem-solving and public speaking skills.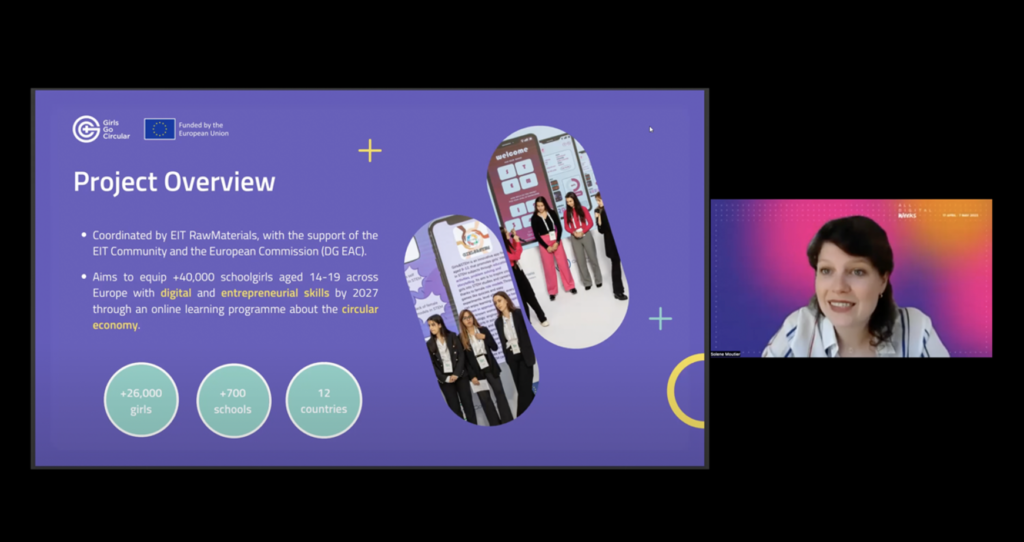 Solene Moutier, Education Project Specialist from EIT Raw Materials, presented another flagship initiative run at the EU level, Girls Go Circular aiming to equip secondary schoolgirls aged 14-19 across Europe with digital and entrepreneurial skills through an online learning programme about the circular economy. Fulfilling several EU policies with focus on encouraging women participation in STEM and closing the gender gap in ICT, Girls Go Circular aims to deconstruct gender stereotypes in secondary education, help schoolgirls develop their digital skills and boost their self-confidence along with their knowledge. The online learning platform is open to everyone and consists of 15 learning modules in 12 languages to explore digital tools and the circular economy in different industries. The learning activities include role-play exercises where schoolgirls can act as a CEO of a manufacturing company, computer engineer or a software developer so that they can picture themselves in these positions and introduce female role models from the fields such as AI, robotics and sustainable mobility to inspire girls.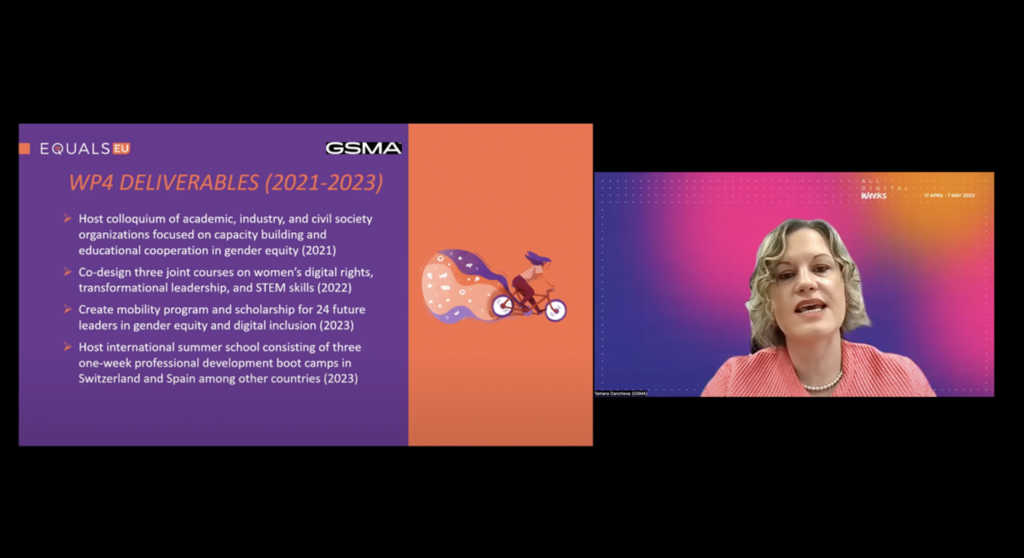 Tamara Dancheva from GSMA, a partner of EQUALS-EU and EQUALS Global Partnership for Gender Equality in the Digital Age, provided an overview of global efforts to bridge the gender gap in technology sector in line with the UN Sustainable Development Goals. Focusing on the EQUALS-EU's knowledge exchange and technology transfer activities for gender equity, she reminded that all started with an EQUALS-EU Colloquium meeting in 2021. Over 100 experts from the mobile industry, academia, civil society and international organisations reflected on the modern-day challenges to championing female leadership in tech with an aim to dispel stereotypes and foster a gender inclusive innovation ecosystem. During 2022, a professional development programme was designed on women's digital rights, transformational leadership and STEM skills. And finally, a summer school will be organised during summer 2023 in Valencia, Geneva and Riga to support the professional development of future leaders in gender equity and digital inclusion.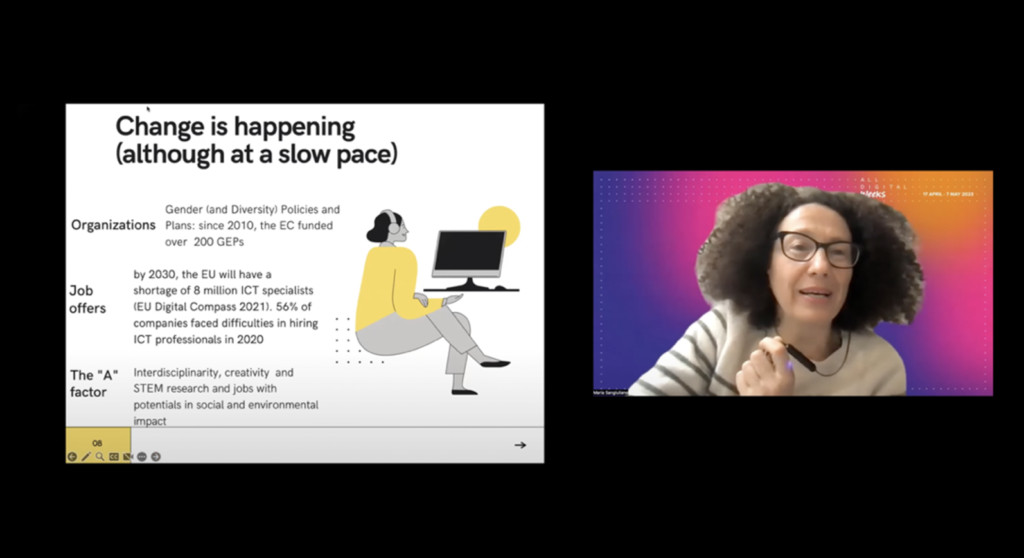 Maria Sangiuliano, Research Director and Program Manager from Smart Venice, shared her insights from several projects: CALIPER – Gender equality in STEM research, BIAS – Mitigating biases of AI in the labour market and FIT – Fairness in Teaching. Maria highlighted that giant steps were taken recently in terms of EU policies and strategies including the European Strategy for Gender Equality 2020- 2025, the forthcoming Gender in STE(A)M manifesto and the EU Women Innovators Awards & Women Tech Scheme. On the other hand, there's still a big gap to bridge in terms of gender equality in STEM careers, which becomes more visible especially in vulnerable groups. There's still space for optimism: The STEM organisations become more and more interested and equipped in gender equality and diversity plans. The increasing shortage in ICT specialists can be an opportunity for women. The interdisciplinarity and creativity of STEM fields offer great potential to make a social and environmental impact. Maria also underlined that we should not ignore backsliding, such as potential "gender fatigue" and growing number of anti-gender discourses and policies.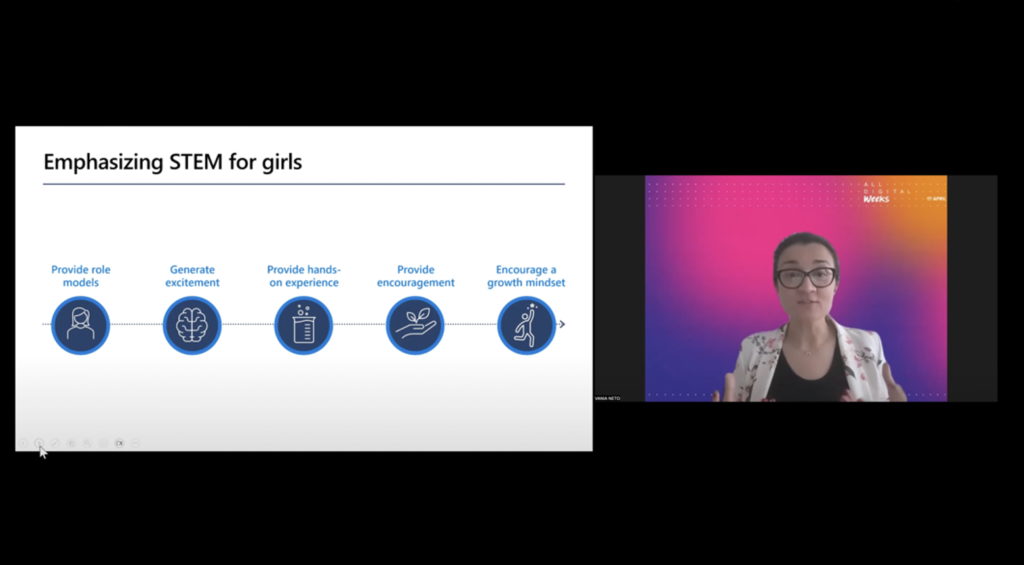 Vania Neto, Education Skills & Learning Lead Western Europe at Microsoft, shared key learnings and future vision from their initiatives for empowering girls in STEM. Vania highlighted that women continue to be overrepresented in Education and Health & Welfare degree subjects compared to men and underrepresented in STEM fields. To overcome this, it's important to help girls keep their interest in STEM subjects at a young age so that they can be motivated to pursue STEM careers. Vania listed a few powerful actions to be followed such as providing role models to inspire girls, generating excitement on STEM topics, showing how such a career can make a difference in the world, offering hands-on experience with real-world examples, providing encouragement through parents, educators and others influential in a girl's life and finally encouraging a growth mindset. She shared some of Microsoft's initiatives taking into account these actions: Hacking STEM, Minecraft Education, Computer Science in the School Curriculum and Do IT, Girls!